How is it done?
As I wrote in my post about the fundamentals of link building, gaining the confidence in more challenging areas of manual link building depends on your ability to analyse the types of sites that link out in your vertical. From there, work out which link types are scalable enough to execute a worthwhile link building campaign.
To write this post I'm literally following that process: analysing what sorts of links are pointing to ecommerce category pages, telling you about it, and deriving some sort of meaningful strategy to help you build more.
That's all a link builder does when you get down to brass tacks.
I started the research for this blog post with such optimism, but as I delved deeper and deeper into the work it dawned on me how hard it is to find category pages with decent links. When it's run-of-the-mill, everyday stuff, I'm afraid to say the links aren't particularly wonderful.
The bad
This page that sells diamond blades is propped up by a network of search results pages. That whole niche is poorly linked though, and they're clearly getting away with it on the strength of the domain.
Some of the stuff you find is actually very entertaining, just for the wrong reasons.
Good for PR but low ROI for SEO
It's quite easy to find stuff like this promoting individual products and their respective brand and category pages. Blogs like this are part of networks that make themselves accessible to brands looking to partner 'with the UK's top blogs'.
I discussed this with our Head of Content, Rebecca who in a previous life managed large networks of bloggers where giveaways were used as a major tactic. As Rebecca put it,
"As SEO's we of course reverted to links as the main motivation for working with bloggers initially, however we began to realise that the real value was in their audience and influence. Though many of them didn't have particularly impactful sites from a domain perspective, the impact of working with bloggers on digital PR campaigns with Digital PR KPIs was far more beneficial"
I suspect the ineffectiveness from an SEO point of view is a natural consequence of the fact that the blogs are part of a network, and in most cases are algorithmically easy to detect. Or they're just all hosted on the same IP address! Cough. Blogspot. Cough.
This is better
It's far from all bad, though. This page is getting links from caravanning forums discussing the merits of traditional silicone sealant in caravan repairs, internal bodywork repairs in classic cars and Kit cars too.
I think this kind of thing is good because it's legitimate conversation about product on the Internet, which is what you want! These types of links often make up a large part of the typical backlink profiles of vast numbers of websites, yet we seem to think Google will reward an influx of guest posts on unrelated blogs. Hmmm.
This is nice
Nordic inspired Christmas decor ideas (redirect), websites entirely about Christmas, affiliates and so on.
Most of the links are redirects which explains this Ahrefs chart:
The tactic was working for a time, holding a P2 ranking for 'Christmas decorations', a query that I imagine will peak sometime around the end of November. While I've been writing this article, the ranking has changed to the better populated sub category page.
Still, seasonal or themed collections pages are a nice thing to have for link building if you have:
a) nice products
b) nice photography
c) and some (relevant) linked-to pages to redirect to the new one.
For me, it's a good call and you'd expect some communities to eat this stuff up. It's just a shame we can't all have nice things to promote.
A bit of keyword research yields good ideas
Debenhams have it spot on in the keyword research department. Adding 'ideas' into the keyword targeting on their lighting category page moves their brand much earlier up the consideration funnel.
Having a decent product photography collection, and being able to pitch your category page as an ideas page has powerful linkbuilding potential. I love the tactic of offering your photography for credit back to the source, or putting collections together for seasonal or themed articles:
During some research I did for an interiors site, I made a note to investigate 80's/90's design, put together some theme collections and send individual product PR to sites like this and this with some photography and a strong story. There are heaps of ideas waiting to be discovered on Reddit.
Link building ideas for category pages
If you are challenged with building links to your category pages, try to take some inspiration from some of these tried and tested ideas:
Will the manufacturer list / link to the online retailer?
Often manufacturers and distributors have retailer location pages, and even if you don't have a physical shop presence they'll still link to you and send you (high converting!) traffic reasonably easily.
Make sure your products are shareable and the images are easy to embed
Themed or seasonal collections are simple to come up with once you get going. 17th century interiors? Classic car collections? Even reaching out to enthusiast and club websites with an offer to add one photo with credit will often be well received.
Consider hosting your "linkable" assets, like buyer's guides, on the category page with a named anchor link to the content
Most retailers use buyer's guides to get their category specific knowledge across to their customers. Instead of hosting all that content on a separate URL, host it in its own section on the category page with a named anchor link (# link) to the content and use that as a resource for outreach.
Forum monitoring (mentions of a product name or category keyword)
Build out profiles in the top forums in your space and then set up mention monitoring for any posts that may be relevant to your product or category.
Do they have a physical presence? Local towns and cities or part of a shopping centre?
If the retailer you're working with has physical shop presence, are their websites listed? Not all the shops listed on this Shopping Centre's page have website links. Towns and cities have lots of these types of sites to contact for links.
Does your website have an open source CMS that showcases examples?
I can't imagine a link from Magento would do much harm to your SEO. Look at pages like this, put together a decent case study and have a go.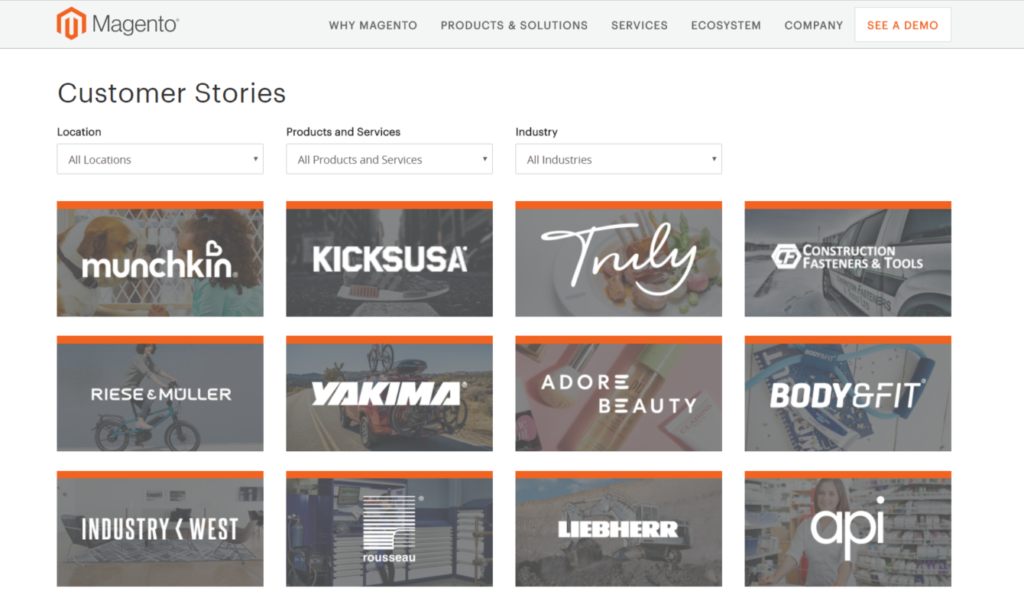 Offer discounts to readers of other sites' how to guides
You might not have written your own how to guide, but they are plentiful on the internet. What about offering a discount or bundle to readers of the better how to guides in your space? I'm a keen fan of racing of all types, including sim racing. There are lots of guides like this to choose from…
Are there association links you should have, but don't?
Like this page on the European Power Tools Association website, found quickly and easily with the right Google search query.
Use Google image search to find sites after you've exhausted web search
Image search results are (understandably) very different to web search results in that you'll probably find domains and pages you couldn't in the ordinary SERPs. You can find hundreds of potential sites that will link if you ask them to credit for using of an image of you – you'll find things you didn't know existed, I promise!
Capitalise on a nice design, site performance or even your site speed!
Look at collections like this if you're confident your site design is strong. Thinking outside the box you could offer case studies on the performance of your site (I've never seen a collection of the fastest retail websites on the Internet).
Execute the link building fundamentals properly
If you haven't read my link building advice on this page, take a look as your next port of call. Enjoy!